Testimonials
Your patch design is great, easy to use, comfortable, and not as bulky as others. It is fun to have so many colorful print choices too. Your patches are helping to make my daughter's amblyopia treatment bearable and successful, even though we didn't discover her vision problem until age 11, when it is usually thought to be too late to treat the condition effectively. We are so glad that you have shared your idea with others. Thank you. Washington
This is the first time Mackenzie has smiled while wearing an eye patch.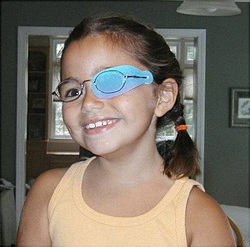 Mackenzie
---
Hi there, Just a note to say thank you so much for your patch. It has been invaluable to Paris and is making a HUGE difference!! It is the only patch she will wear. Her vision in that eye has gone from 3/18 to 3/9. Thank you Thank you : )
Hello, my name is Angela Wilson, I am a mom of four children. My youngest two are twins that are five years of age now. Approximately two years ago one of the twin boys was diagnosed to be legally blind in his center vision. We were told since his brain was still developing we could try to train the brain to cut his vision back on. This would require a minimum of two hours a day being patched, which meant he could not see at all. I held him, prayed, read, sang, etc. Anything I could do to keep his eye covered. We bought black pirate patches. They did not cover tight enough. We bought the bandage patches. The area around his eye got a rash from the tape. Then we met Anissa and her family. It was truly a blessing. The patch is perfect. It allows the eye to breathe but yet keeps it completely covered. It also looks great. It doesn't make your child appear to be sick. I have had five patches in approximately two year. This is a hugh savings. Ashby's vision is now returned (praise God!) and only requires patching one hour every day or so. Thanks for the fun patches.
Sincerely, The Wilson Family.
When I hand him his glasses with the patch on he puts them on without hesitation. When we used the stick on eye patches he could cry and cover up his face. California
"Your product works super! My daughter went from 20/45 to 20/25 in 4 weeks and never took off her patch while she was awake. She thinks they look cool." Ohio
"Your patches are awesome. My son has worn 4 of your patches for over a year. Not only are they more comfortable for him, we have saved a lot of money. He was virtually blind in that eye when he started wearing the patch and now has about 20/5 vision." Georgia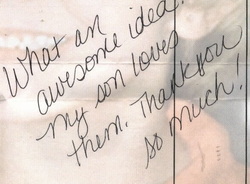 "My son is 5 and has been patched since he was a year old. The sticky patches irritated his skin. My doctor reluctantly gave me one of you brochures. In four months he went from 20/80 to 20/25. I can't believe it. My doctor was very skeptical when I bought these. She really wanted the adhesive, and now she can't believe it either. I definitely need to order some more." New York
"Thank you so much for coming up with such a concept. It was much easier on Taylor to have something neat to wear. She had more compliments on her patch. People focused on the uniqueness of the patch, not Taylor having to wear one. This helped her confidence level greatly. Being different and having to wear glasses, much less one with a patch is difficult on a 5-year-old child. Thank you for smoothing out the experience." Tennessee
Thank you so much for these wonderful patches!!! My son is 5 1/2, and we found out that he had amblyopia and started patching only 6 weeks ago. The doctor had recommended the sticky patches, as they were best for not allowing him to "cheat" while patching. My son would cry every time I would try to put the patch on him, and his patching time (although only 2 - 3 hours every evening) was always VERY stressful for us! My mom found your patches on-line the day after we started patching and ordered them. They were quickly shipped to us, and they made patching time a breeze! My son loved the different prints that he had. The patches are comfortable and don't allow any cheating! We went back to the doctor yeaterday for his 6 week checkup and found out that he now has 20/20 vision with his glasses!!! Praise God! The doctor is allowing us to discontinue patching at the end of the month. I showed the doctor one of your patches, and he was very impressed and was going to look at your website himself...I'm hoping that he will recommend your patches to other parents. I know that our patching wouldn't have been nearly as successful or gone as smoothly without your patches. Thank you!!!
We discovered Anissa's Fun Patches when doing an internet search to find a suitable alternative to adhesive patches and the bulky cloth covers given to us at the eye doctor. Both of these options were not working, and my son, who was diagnosed with strabismus and amblyopia, needed to wear a patch at least 4 hours a day. Once I found Anissa's Fun Patches, I had my son pick out what he wanted. He was so excited, and was even more so when the rainbow-designed patch arrived in the mail a few days later. He immediately wanted to wear it, and upon our next visit to the eye doctor, he was making such progress that his patching time was cut in half. Upon subsequent visits, he was 'freed' from having to wear the patch. I cannot thank you enough for making this as fun of a process that it could be and for your mission and commitment to helping children. Becky